Introduction
The San Lazaro Hospital – Nagasaki University (SLH-NU) Collaborative Research Office and Laboratory was established in 2015 between San Lazaro Hospital (Manila, Philippines) and the School of Tropical Medicine and Global Health (Nagasaki, Japan).
We aim to conduct impactful research in infectious and tropical diseases as well as supporting the training and education of clinicians and researchers from the Philippines, Japan, and beyond.
We welcome external collaborations. Please reach out to us via the contact details below.
About San Lazaro Hospital
Founded in 1577 in Manila, the Philippines, San Lazaro Hospital is a 500-bed capacity dedicated special National Medical Center for Infectious Diseases. It is involved in healthcare service delivery for underprivileged groups suffering from infectious and tropical diseases.
San Lazaro Hospital hosts the National Reference Laboratory – STD AIDS Cooperative Central Laboratory, an animal bite treatment center, a facility for the programmatic management of drug resistant tuberculosis, and a HIV screening and testing hub, in addition to its inpatient services. SLH is also a Philippine Society for Microbiology and Infectious Diseases-accredited training center for adult infectious diseases.
Research
Our team includes research nurses, medical technologists, a secretary, a data manager, a research clinician, and an office manager. A dedicated SLH-NU coordinator, under the SLH administration, liaises the activities between SLH and NU. The laboratory is able to conduct various serological and molecular tests, MALDI-ToF, genetic sequencing, and store samples for future analyses.
Research themes have included etiology of fever, and diseases such as leptospirosis, diphtheria, measles, HIV, tuberculosis, rabies, dengue, and typhoid. We have experience of conducting prospective observational studies among patients presenting with fever or respiratory tract infections. Examples of projects include:
Community Acquired Bacteremia (CAB) study: launched in 2015, the CAB study aims to characterize the etiology of fever (particularly bacterial bloodstream infection) and antimicrobial resistance patterns in admitted patients
Acute Respiratory Infection study: launched in 2020, the ARI study aims to describe the epidemiology and clinical features of acute respiratory infection (including COVID-19) among patients, healthcare workers, and household contacts in SLH.
Central Nervous System Infection study: the CNSi study is being developed to characterize the clinical, microbiological, and molecular epidemiology of community acquired central nervous system infections.
In addition, we support the conduct of research and case reports by SLH fellows and consultants and affiliated graduate students and academics from NU.
Education and training
We organize the Philippine Tropical Medicine Course; a two-week practical clinical and public health course that consists of bedside teaching, lectures and discussion, and fieldwork in the communities. Further information is available here.
Selected Publications
Epidemiological and clinical characteristics of children with confirmed COVID-19 infection in a tertiary referral hospital in Manila, Philippines. Lota-Salvado R, Padua JR, Agrupis KA, Malijan GM, Sayo AR, Suzuki S, Devota Go G, Smith C. Trop Med Health. 2023 Feb 22;51(1):9.
SARS-CoV-2 seroprevalence and infection rate in Manila, Philippines prior to national vaccination program implementation: a repeated cross-sectional analysis. Malijan GMB, Edwards T, Agrupis KA, Suzuki S, Villanueva AMG, Sayo AR, De Guzman F, Dimapilis AQ, Solante RM, Telan EO, Umipig DV, Ota K, Nishimura F, Yanagihara K, Salazar MJ, Lopez EB, Ariyoshi K, Smith C. Trop Med Health. 2022 Oct 11;50(1):75.
Detection of SARS-CoV-2 and HHV-8 from a large pericardial effusion in an HIV-positive patient with COVID-19 and clinically diagnosed Kaposi sarcoma: a case report. Yanes RR, Malijan GMB, Escora-Garcia LK, Ricafrente SAM, Salazar MJ, Suzuki S, Smith C, Ariyoshi K, Solante RM, Edrada EM, Takahashi K. Trop Med Health. 2022 Sep 24;50(1):72.
Clinical, epidemiological, and spatial features of human rabies cases in Metro Manila, the Philippines from 2006 to 2015. Guzman FD, Iwamoto Y, Saito N, Salva EP, Dimaano EM, Nishizono A, Suzuki M, Oloko O, Ariyoshi K, Smith C, Parry CM, Solante RM. PLoS Negl Trop Dis. 2022 Jul 19;16(7):e0010595.
A prospective observational study of community-acquired bacterial bloodstream infections in Metro Manila, the Philippines. Saito N, Solante RM, Guzman F99D, Telan EO, Umipig DV, Calayo JP, Frayco CH, Lazaro JC, Ribo MR, Dimapilis AQ, Dimapilis VO, Villanueva AM, Mauhay JL, Suzuki M, Yasunami M, Koizumi N, Kitashoji E, Sakashita K, Yasuda I, Nishiyama A, Smith C, Ariyoshi K, Parry CM. PLoS Negl Trop Dis. 2022 May 25;16(5):e0010414
A call to protect non-clinical frontliners in the fight against COVID-19: evidence from a seroprevalence study in the Philippines. Putong N, Agrupis KA, Villanueva AM, Suzuki S, Sayo AR, Dimaano E, de Guzman F, Teaño R, Salazar MJ, Evangelista JW, Dimapilis A, Villarama JB, Ariyoshi K, Takahashi K, Smith C. Lancet Reg Health West Pac. 2022 Jan;18:100353.
Measles outbreak in the Philippines: epidemiological and clinical characteristics of hospitalized children, 2016-2019. Domai FM, Agrupis KA, Han SM, Sayo AR, Ramirez JS, Nepomuceno R, Suzuki S, Villanueva AMG, Salva EP, Villarama JB, Ariyoshi K, Mulholland K, Palla L, Takahashi K, Smith C, Miranda E. Lancet Reg Health West Pac. 2021 Dec 15;19:100334.
Epidemiological and clinical characteristics of the first 500 confirmed COVID-19 inpatients in a tertiary infectious disease referral hospital in Manila, Philippines. Agrupis KA, Smith C, Suzuki S, Villanueva AM, Ariyoshi K, Solante R, Telan EF, Estrada KA, Uichanco AC, Sagurit J, Calayo J, Umipig D, Dela Merced Z, Villarama F, Dimaano E, Villarama JB, Lopez E, Sayo AR. Trop Med Health. 2021 Jun 12;49(1):48.
Diphtheria in Metro Manila, the Philippines 2006-2017: A Clinical, Molecular, and Spatial Characterization. Saito N, Dimapilis VO, Fujii H, Suzuki M, Telan EFO, Umipig DV, Solante RM, Dimapilis AQ, De Guzman F, Salva EP, Nakayama F, Toda K, Smith C, Ariyoshi K, Parry CM. Clin Infect Dis. 2021 Jan 23;72(1):61-68.
First COVID-19 infections in the Philippines: a case report. Edrada EM, Lopez EB, Villarama JB, Salva Villarama EP, Dagoc BF, Smith C, Sayo AR, Verona JA, Trifalgar-Arches J, Lazaro J, Balinas EGM, Telan EFO, Roy L, Galon M, Florida CHN, Ukawa T, Villaneuva AMG, Saito N, Nepomuceno JR, Ariyoshi K, Carlos C, Nicolasora AD, Solante RM. Trop Med Health. 2020 Apr 14;48:21.
Additional publications can be assessed via this link.
Key contacts
Philippines (San Lazaro Hospital)
Mr. Shuichi Jack Suzuki (SLH-NU office manager) – suzuki_shuichi@nagasaki-u.ac.jp
Dr. Ana Ria Sayo (Head of Epidemiology, SLH-NU coordinator)
Dr. Greco Mark Malijan (Research clinician)
Dr. Kristal An Agrupis (Research clinician/PhD student)
Japan (Nagasaki University)
Prof. Chris Smith – christopher.smith@lshtm.ac.uk
Prof. Koya Ariyoshi
Prof. Kiyoshi Kita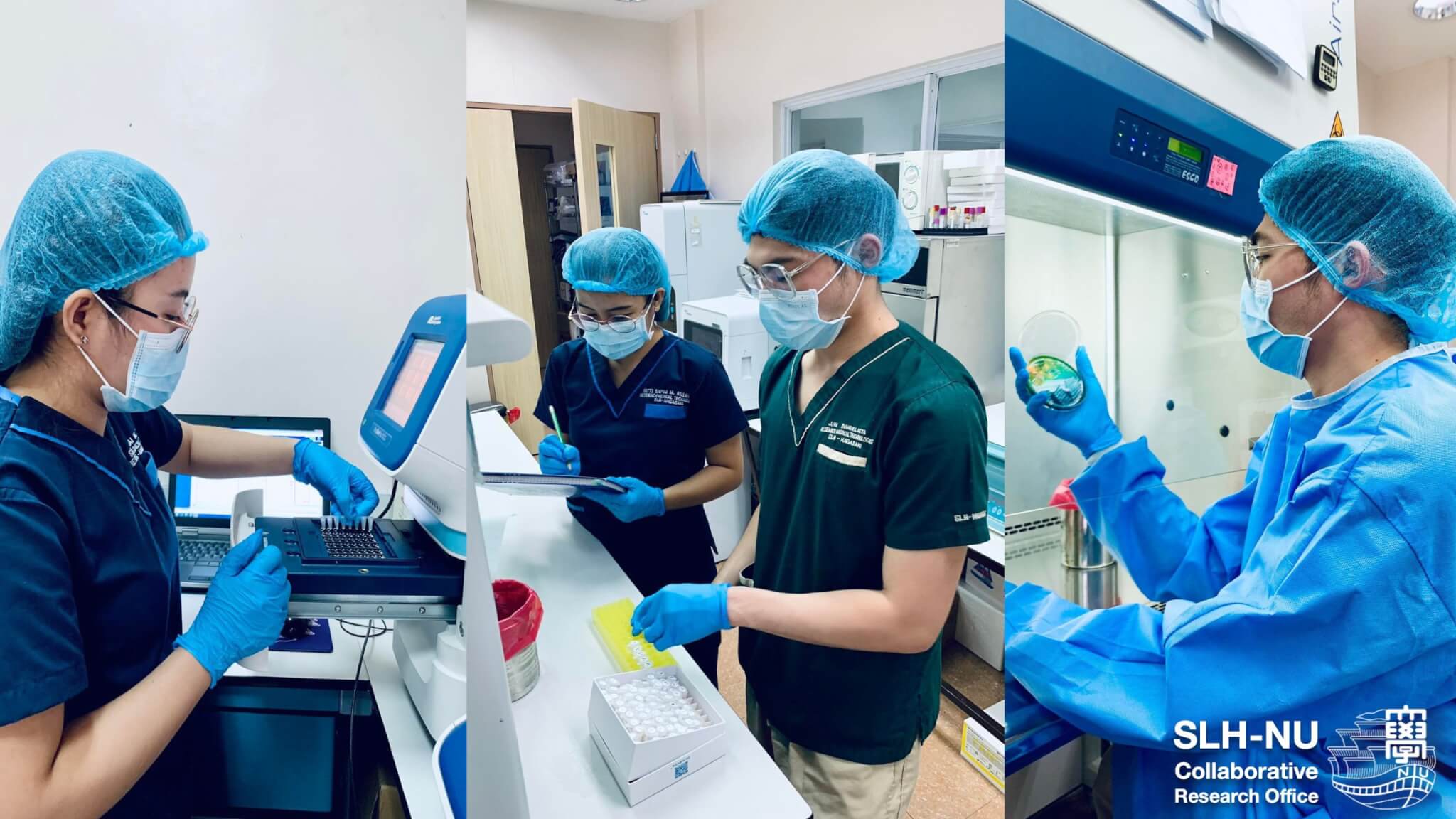 Research Laboratory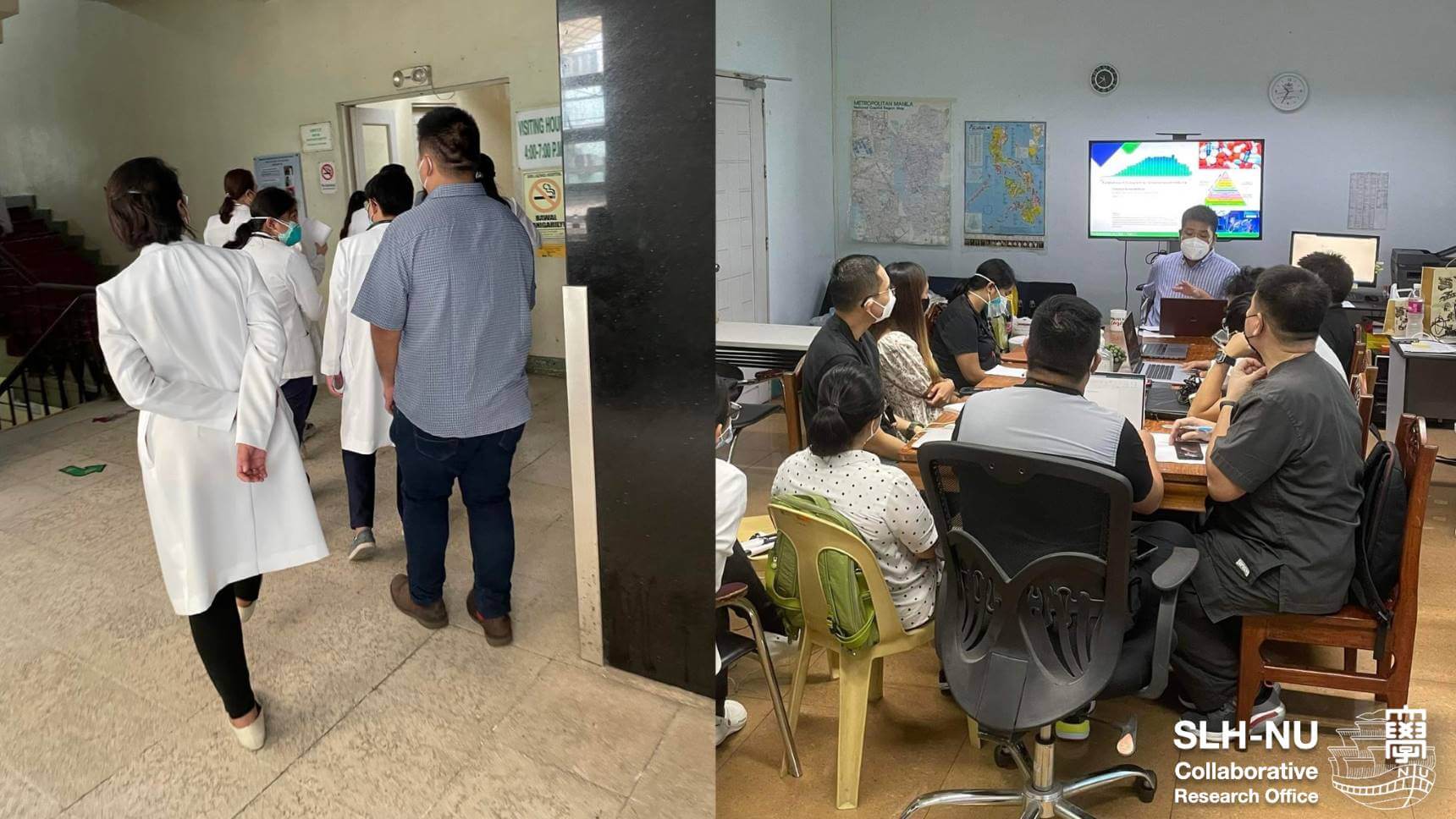 Research Official