Associate professor Michiko Toizumi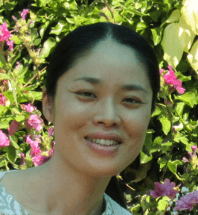 Speciality / Research theme / Keywords
Paediatrics, Neonatology, Epidemiology, Public Health, Virology
Supervision
Masters Programme
Doctoral Programme
Qualifications
Personal/work Web page addresses
http://www.tm.nagasaki-u.ac.jp/pediatric/
Affiliation(s)
Department of Pediatric Infectious Diseases, Institute of Tropical Medicine (NEKKEN), Nagasaki University
Background
I graduated from Kumamoto University Medical School, Japan and then had worked as a pediatrician for 8 years. Following that, I had studied tropical medicine and pediatric infectious diseases in the Master course of Tropical Medicine and in the Doctoral course in Graduate School of Biomedical Sciences, Nagasaki University. After I received my PhD, I joined the Department of Pediatric Infectious Diseases, the Institute of Tropical Medicine, Nagasaki University as an assistant professor in 2015.
Teaching
Facilitator of Epidemiology-Statistics Course in School of Tropical Medicine and Global Health, Nagasaki University
Research
Studies on pediatric infectious diseases in Vietnam:
Acute respiratory infections (incidence, viral/bacterial pathogens, risk factors)
Congenital infections (e.g.,rubella, CMV, Zika) and the effect on child development
Pneumococcal conjugate vaccine reduced dosing trial
The country/countries where you work currently
Vietnam
Five MOST IMPORTANT/INTERESTING recent publications
Imported Infectious Diseases, Tropical Diseases and Local Endemic Infectious Diseases in Japan. Toizumi M, Horikoshi Y. Pediatr Infect Dis. 2022 July; 41(7): e275-e282. doi: 10.1097/INF.0000000000003541
The seroprevalence, waning rate, and protective duration of anti-diphtheria toxoid IgG antibody in Nha Trang, Vietnam. Kitamura N, Le LT, Le TTT, Nguyen HT, Edwards T, Madaniyazi L, Bui MX, Do HT, Dang DA, Toizumi M, Fine P, Yoshida LM. Int J Infect Dis. 2022 Mar;116:273-280. doi: 10.1016/j.ijid.2022.01.025. Epub 2022 Jan 19.
Epidemiology of Coronavirus Disease Outbreak among Crewmembers on Cruise Ship, Nagasaki City, Japan, April 2020. Maeda H, Sando E, Toizumi M, Arima Y, Shimada T, Tanaka T, Tashiro M, Fujita A, Yanagihara K, Takayama H, Yasuda I, Kawachi N, Kohayagawa Y, Hasegawa M, Motomura K, Fujita R, Nakata K, Yasuda J, Morita K, Kohno S, Izumikawa K, Suzuki M, Morimoto K. Emerg Infect Dis. 2021 Sep;27(9):2251-2260. doi: 10.3201/eid2709.204596.
Rubella seroprevalence among mothers and incidence of congenital rubella three years after rubella vaccine introduction in Vietnam. Toizumi M, Tanaka S, Moriuchi M, Nguyen HT, Takegata M, Iwasaki C, Kitamura N, Do HT, Dang DA, Yoshida LM, Moriuchi H. Hum Vaccin Immunother. 2021 Sep 2;17(9):3156-3161. doi: 10.1080/21645515.2021.1922264. Epub 2021 Jun 3.
Prevalence and characteristics of children with otitis media with effusion in Vietnam. Satoh C, Toizumi M, Nguyen HAT, Hara M, Bui MX, Iwasaki C, Takegata M, Kitamura N, Suzuki M, Hashizume M, Dang DA, Kumai Y, Yoshida LM, Kaneko KI. Vaccine. 2021 May 6;39(19):2613-2619. doi: 10.1016/j.vaccine.2021.03.094. Epub 2021 Apr 13.
Message
Please join us if you are interested in our researches on pediatric infectious diseases!