Education at Satellite Campus (Tokyo)
In October 2017, TMGH opened a satellite campus (NCGM Satellite) at the National Center for Global Health and Medicine (NCGM: 1-21-1, Shinjuku-ku, Tokyo). Students of the satellite campus are professionals working fulltime who can access lectures online from their home or workplace, and are only required to study at the campus in the evenings or weekends.
Curriculum (Masters Programme)
Education Format
NCGM Satellite students only need to go to school in the evenings or on weekends. Instead of attending in person, students can access recorded lectures online. While on-campus, students will deepen their understanding of the subject matter through face-to-face interaction with resident professors at the satellite campus and also professors based in Nagasaki via telecom (see image).
In addition, although students are enrolled at the NCGM satellite, they may be required to attend certain lectures at the Nagasaki campus for a short period of time.
Online lecture views are logged to ensure that students have accessed the recordings; however, self-discipline will be crucial for those attending the satellite campus.
Please note that the MTM course duration for the satellite campus is extended to 2 years (normally 1 year at the Nagasaki Campus).
Entrance Examination
The NCGM satellite applicants must be professionals working fulltime and who wish to pursue their studies while working. Applicants who wish to apply for NCGM Satellite must meet the entrance requirements (except MTM course) shown in the Application Guidance and pass the entrance examination for professional admission. For details, please check the application guidelines on our website.
Faculty
The NCGM satellite has several resident professors from TMGH available for students, while other professors based in Nagasaki can be accessed through a telecom system.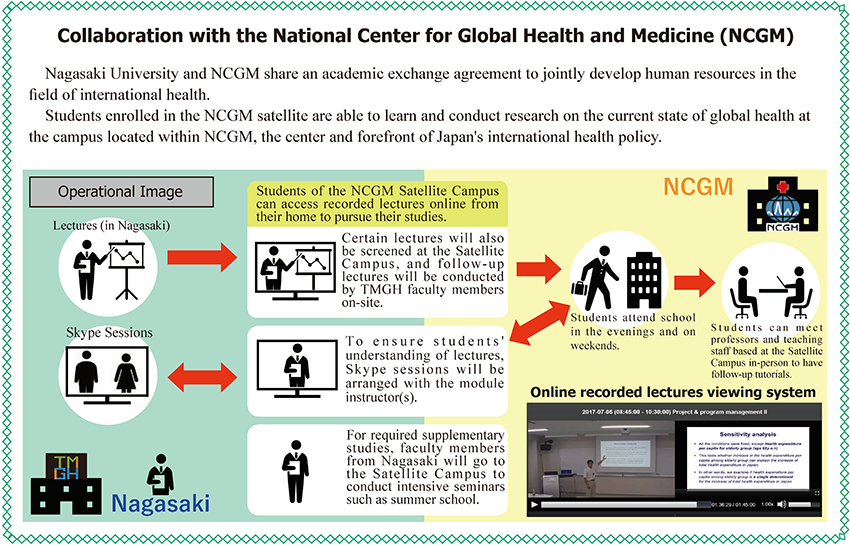 Lecture Room
A lecture room is provided which can accommodate up to 24 people. The room can also be separated into two sections for small group discussions and meetings.
Moreover, using the telecom system, students can receive interactive guidance in real time from the Nagasaki campus.
Recorded Lectures/Distribution System
Recorded lectures from Nagasaki campus can be viewed online. Using their ID and password, students can access these recordings anywhere at any time and each student's log-in history will be checked.
In addition, the system allows for the viewing of lectures and learning materials on two screens simultaneously, with the added option of maximizing either screen for detailed viewing. The system also functions with tablets.

Refreshment Room
Students are provided with an area to take breaks and enjoy a snack or drink.