Established in April 2015, the School of Tropical Medicine and Global Health (TMGH) welcomed the first group of students, 31 people in total (8 international students), on October 2nd at the official Entrance Ceremony.
The students spent the day meeting their new classmates and looking forward to learning new things with great eagerness.
Following that, on October 3rd, 100 guests from various organizations and agencies joined us in our School Establishment Ceremony to celebrate the opening of this new School.
As University President Katamine stated in his address;
"In today's world, an infectious disease from West Africa can spread to many other places and lifestyle-related illnesses in developing countries are increasing. We must work along the same pathways in order to solve the problems of the world."
The expectations for the training of experts and professionals in this new Graduate School has been set.
In addition, congratulations were given by TsutomuTomioka, a member of the House of Representatives, Masafumi Nogimori, Chairman of Astellas Pharma Inc., Yutaka Tokiwa, Director for Higher Education at the Ministry of Education, Culture, Sports, Science and Technology, and more.
Professors Brian Greenwood and Peter Piot from our partner school, London School of Hygiene and Tropical Medicine, also sent in video messages offering words of support, "By combining together, our schools will be able to achieve even greater things".
For the ceremony, TMGH professors Sharon Cox and Christopher Parry on a joint assignment with LSHTM gave speeches followed by Professor John Edmonds, Dean of Faculty of Epidemiology and Population Health.
Both the ceremony and reception ended with great success, We will do our best to meet the expectations of everyone who has supported our School.
Entrance Ceremony
○ Dean Kiyoshi Kita's Greetings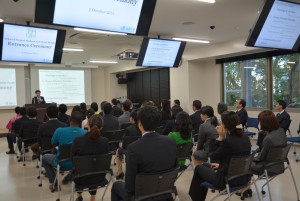 ○1st year students, faculty and staff.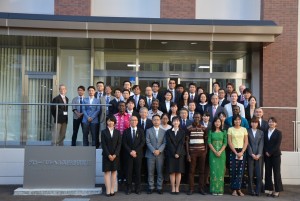 Establishment Ceremony
○University President Katamine's greetings.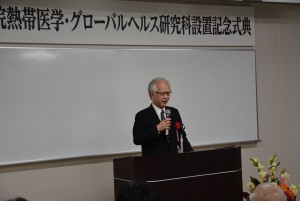 ○Congratulations from Masafumi Nogimori, Chairman of Astellas Pharma Inc.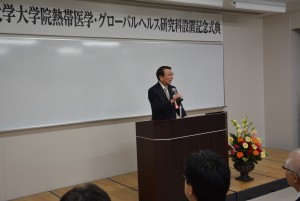 ○Congratulations from Yutaka Tokiwa, Director for Higher Education.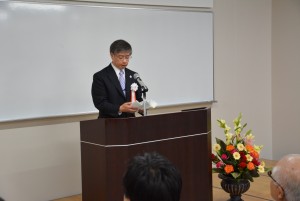 ○Video messages(Professor Brian Greenwood)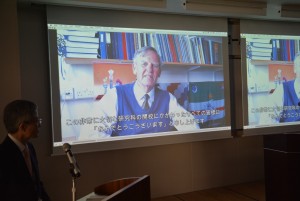 ○Video messages(Professor Peter Piot)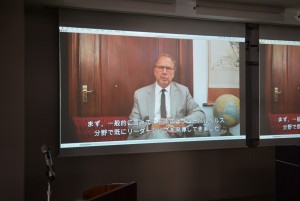 ○Professor John Edmunds' speech at the Establishment Ceremony.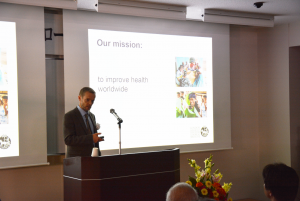 ○Dean Kiyoshi Kita (Reception)