The Asian Neglected Tropical Diseases Conference, known as NTDASIA 2017 was held in Khon Kaen, Thailand over 8th to 9th March 2017. TMGH first batch student, Takuya Shizume participated the conference and won the best poster awards at NTDASIA2017 among 200 participants from over 25 different countries.
The objectives of this meeting were to strengthen the network to address key NTDS issues in order to build further research collaboration to enhance NTD research in Asia and worldwide at large. The program included the presentation and poster session to update on Asian NTDs and regional policy, and scientific advances in NTDs, such as shistosomiasism, facioliasis and foodborne trematodiases.
The International Health Development Course, which Takuya belongs to, requires students to undertake a mandatory internship and research activities for eight months overseas in their second year. Takuya conducted his internship at WHO country office in Lao PDR for 3 months. During his internship, he was mainly involved with the activity called CL-SWASH, which was community based activity to tackle with schistosomiasis towards elimination. CL-SWASH was successful in Lao PDR, and expanded the activity to Cambodia where schistosomiasis is also endemic. Since he had the opportunity to support CL-SWASH field training in Cambodia, he decided to participate in the conference to share his experience of the activity by poster presentation in NTDASIA2017.
Takuya comments "For me, receiving the best poster award meant that the activity, efforts of the community and local personnel were acknowledged by participants and the juries of the poster award. I was very happy when I found out that my poster was selected for the best poster award. I would like to take this opportunity to thank my supervisors, admin staff of Nagasaki University, and colleagues of WHO Laos and Cambodia for all their sincere supports."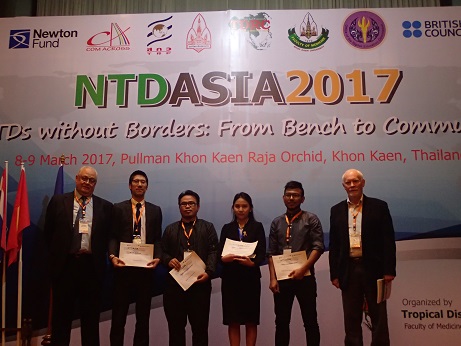 Commemorative Photo (Takuya on the second Left)
The below link will direct you to a third-party site.