*** Application form ***
(Open Sept-Oct: early application is encouraged)
***Register interest***
(Open all year)
Course overview
The Nagasaki Diploma in Tropical Medicine and Hygiene (DTM&H) is an 11 week, full time taught course in Japan. The course was established in 2019 and is taught by lecturers from Japan, the UK, the Philippines and many other countries. We welcome applications from doctors who are planning to work with international health missions, work in travel clinics, or from those with a general interest in the field.
The course is approved by the American Society of Tropical Medicine and Hygiene (ASTMH), which means graduates can apply to sit the CTropMed exam or the Royal College of Physicians UK DTM&H exam.

Aims & objectives
The aim of this course is to equip medical doctors with the knowledge and skills to practice medicine and promote public health in resource limited regions. It also aims to spark research interest in global health and encourage students to go for higher degrees such as Masters and PhDs in related fields.
Content
The course covers important infectious diseases that are prevalent in resource limited regions including tuberculosis, malaria, and HIV, as well as neglected tropical and non-communicable diseases. The course contains academic modules linked with the Master of Tropical Medicine (MTM). Please note that some of these sessions have a more basic science/research focus. Clinical case discussions are held with colleagues in hospitals in the Philippines, Vietnam and Nepal. Laboratory practicals include parasitology, bacteriology, zoology, serological and molecular methods. Total learning time is approximately 300 hours including, lectures, group discussion, self-study and laboratory work.
Eligibility
Medical doctors with 2 years of work experience.
We encourage applications from Japan and all over the world. As the course is taught in English, students should have good English language ability, but it does not have to be perfect. The course provides a good opportunity to improve your medical English and catch-up sessions for non-native speakers will be provided.
Location/accommodation
DTM&H course is run in Nagasaki which is a historic city and the capital city of Nagasaki Prefecture located in Kyushu island in Japan. Students need to manage accommodation by themselves. For international students, further information on accommodation options can be provided and we will support wherever possible.
Course dates:
2024: April 1-June 14
2025: April 1-June 13
Tentative schedule for 2024
Week 1: HIV, malaria, various topics
Week 2: TB, various topics
Week 3: Leishmaniasis, humanitarian emergencies, various topics
Week 4: Various topics
Week 5: Golden week, course break (no sessions)
Week 6: Maternal & child health, non-communicable diseases
Week 7: Lab practicals, lectures, various topics
Week 8: Lab practicals, lectures, various topics
Week 9: Lab practicals, lectures, clinical cases
Week 10: Clinical cases, revision
Week 11: Revision, exams, closing
An 'Introduction to Tropical Medicine' module will be made available online learning system to review, one month in advance of the course.
Hybrid option
In general, we recommend students to attend the whole course in-person, in Nagasaki. However, we recognise that some doctors cannot take all the time off work. In which case, the final 6 weeks of the course after Golden Week should be prioritised. We also recommend that students who can only do the hybrid option apply for the CTM course to start studying in October in advance of the DTM&H course.
Tuition fees
500,000 JPY
(400,000 JPY for students who completed the Certificate in Tropical Medicine [CTM] course)
Overseas students should ask their own government education department or organisation for details of scholarships and grants available. It should be noted that most of the candidates attending this course will be self-funded.
Fee deadline:
The course fee should be paid in full as indicated in the acceptance letter for admission. (typically within 1 month of notification of offer)
How to apply
Complete the Expression of Interest form here  (anytime).
The application form opens in September and the first group of offers will be made in early November.
Please apply before October 31 here.
Please note that early application is advised. The application period may be closed early if a large number of high quality applications are received.
Visas
Students are responsible for obtaining any visa or other permissions to attend the course and are encouraged to start the application process as early as possible. The course administration can provide supporting documentation if requested.
Linked courses
Master of Tropical Medicine (MTM)
A one-year course that starts in October each year and includes the DTM&H. The application period is generally in January and the application process and forms are available on the TMGH website here.
Philippines Tropical Medicine Course
A 2-week practical clinical and public health tropical medicine course in San Lazaro Hospital, Manila (1 week) and Leyte (1 week) comprising bedside teaching, lectures/discussion and fieldwork in the communities. Intake quota is limited to 24 students and priority will be given to current DTM&H students and DTM&H graduates.
Certificate in Tropical Medicine (CTM)
A 6-month part-time online course to teach doctors key concepts of diseases that are especially prevalent in tropical and resource limited regions. Students can access lecture recordings and other materials in their own time through the online learning system according to their preference. The course includes most of the didactic sessions from the DTM&H course but does not include laboratory practicals or interactive clinical case discussions. Assessment is with an online multiple choice exam.
Key differences of tropical medicine courses
| | | | |
| --- | --- | --- | --- |
| | Diploma in Tropical Medicine and Hygiene (DTM&H) | Certificate in Tropical Medicine (CTM) | Philippines Tropical Medicine Course |
| Location | Nagasaki | Online | Philippines |
| Intensity | Full time | Part time | Full time |
| Duration | 11-weeks | 6 months | 2 weeks |
| Certificate | Professional Diploma | Certificate | Certificate |
Contact
TMGH academic administrative office: https://www.tmgh.nagasaki-u.ac.jp/contact_us
or
Chris Smith (course director): tropmed@ml.nagasaki-u.ac.jp
Please note that in addition to the course team's personal email addresses, the following email address is also used for course communications: dtmh.nagasaki@gmail.com
Photos from previous courses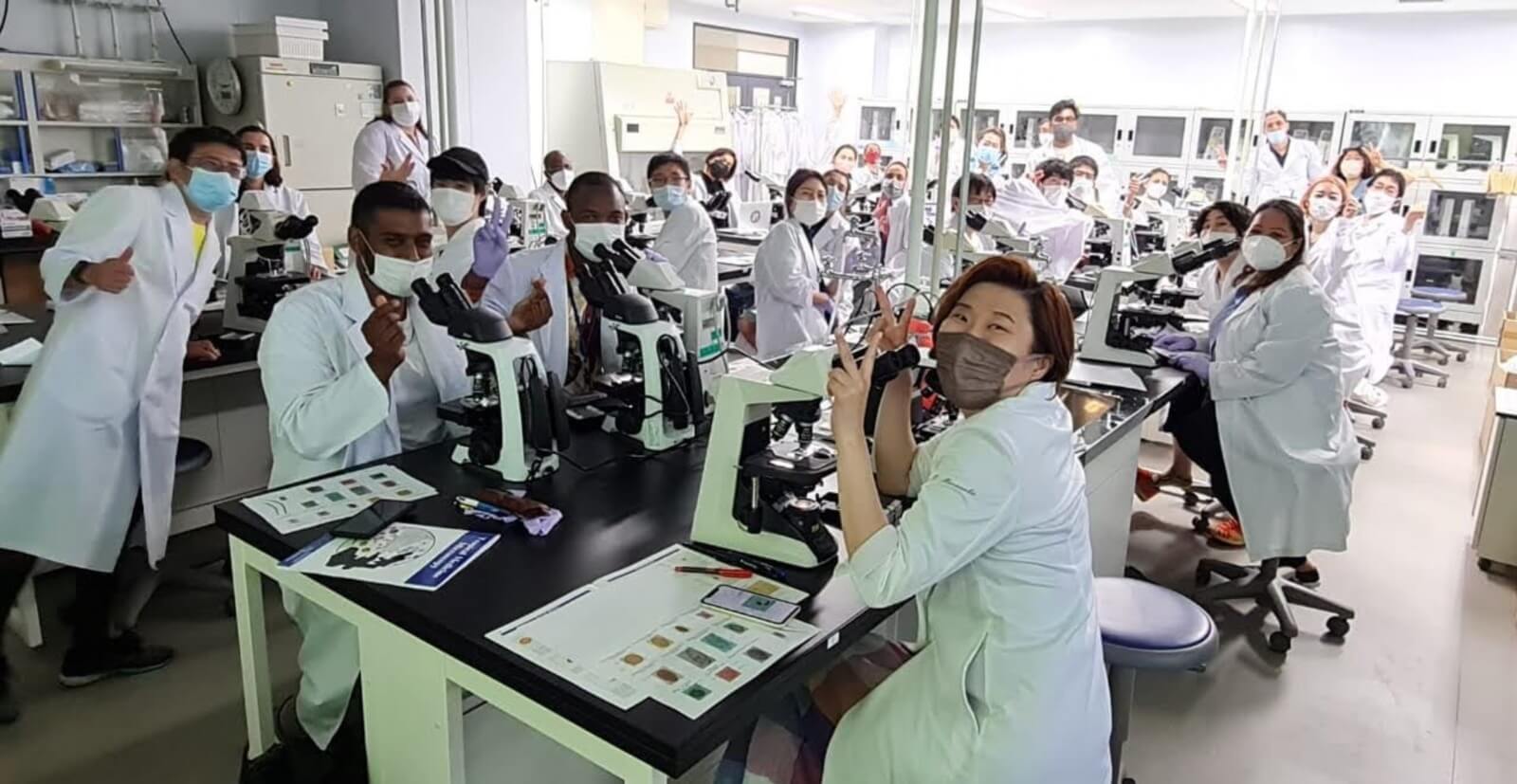 Student Testimonials
"Finally, I got a Diploma in Tropical Medicine & Hygiene (DTM&H) in Nagasaki! DTM&H started from 1899 in London School of Hygiene & Tropical Medicine (LSHTM), then this was a first-trial DTM&H in Nagasaki. There were great lectures from LSHTM professors and wonderful lab practices. They have become precious experiences to me. THANK YOU!"
"There are three good things about this course: first, my English has improved dramatically; second, my knowledge of infectious diseases has deepened; and third, I have made friends from all over the world with different backgrounds"
"Many of the lecturers were at the top of their fields and had a sense of mission, and they spoke to us with a passion far beyond their own"
"It was diverse and very informative. Hybrid teaching, video recordings, supportive organizers make this course unique. Lab practicals were great"
"The course went very good, even better than I expected. Study materials, handouts and recorded videos all are very good"