Professor Fuyuki Tokumasu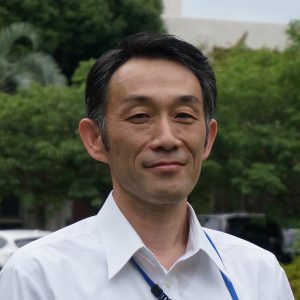 Speciality / Research theme / Keywords
Lipid metabolism in malaria parasites, Lipid membrane biophysics, High-resolution bioimaging
Supervision
Masters Programme
Doctoral Programme
Qualifications
Ph.D. (Human and Environmental Studies)
Personal/work Web page addresses
http://www.tm.nagasaki-u.ac.jp/nekken/departments/shionogi-cellulararchi.html
Research gate or Linked-in account links
https://www.researchgate.net/profile/Fuyuki_Tokumasu
https://www.linkedin.com/in/fuyuki-tokumasu-35a1972b/
Affiliation(s)
Guest Researcher at Department of Lipidomics, University of Tokyo
Visiting Fellow at Lipid Signaling Project, National Center of Global Health and Medicine
Background
1990.8~1994.5 Birmingham-Southern College (U.S.A.)B.S., Major: Physics, Minor: Mathematics
1994.9~1996.3 The Ohio State University(U.S.A.)M.S., Biophysics Program
1996.4~2000.1 Graduate School of Human and Environmental Studies, Kyoto University. Ph.D.
2000.2~2001.1 National Institutes of Health (NIH), Visiting Fellow
2001.2~2003.1 JSPS Research Fellow (NIH)
2003.2~2006.1 National Institutes of Health (NIH), Research Fellow
2006.4~2013.2 National Institute of Standards and Technology, Guest Researcher
2006.1~2014.3 National Institutes of Health (NIH), Staff Scientist
2007.2~2014.3 National Institutes of Health(NIH), Leading Investigator, Biochemical and Biophysical Parasitology Program
2014.4~2019.3 Associate Professor, Department of Lipidomics, University Tokyo
2014.4~Current Visiting Fellow at Lipid Signaling Project, National Center of Global Health and Medicine
2019.4~Current Guest Researcher at Department of Lipidomics, University of Tokyo
2019.4~Current Professor, Department of Cellular Architecture Studies, Institute of Tropical Medicine, Nagasaki University.  Co-appointed in TMGH
Teaching
Basic Human Biology, Global Health Seminar
Coordinator, Infectious Diseases-Research-in-Progress Seminar (IDRiPS)
Research
Lipid biology in Plasmodium parasites using high-resolution bioimaging, lipidomics analyses by mass spectroscopy, gene manipulation techniques and biophysical analyses for numerical and image data.
The country/countries where you work currently
Japan and USA
Five MOST IMPORTANT/INTERESTING recent publications
(*Corresponding Author, ¶Equal contributed Authors)
N. Iso-o*¶, K. Komatsuya¶, F. Tokumasu*¶, N. Isoo, T. Ishigaki, H. Yasui, H. Yotsuyanagi, M. Hara, K. Kita* (2021) Malaria parasites hijack host receptors from exosomes to capture lipoproteins. Cellular and Molecular Basis in Parasitic Diseases Control: Research Trends in Front. Cell Dev. Biol. 9: 749153
F. Tokumasu*, E.H. Hayakawa, J. Fukumoto, S.M. Tokuoka, S. Miyazaki* (2021) Creative interior design by Plasmodium falciparum: Lipid metabolism and the parasite's secret chamber. Parasitol. Int. 83: 102369
E.D. Hartuti, T. Sakura, M.S.O. Tagod, E. Yoshida, X. Wang, K. Mochizuki, R. Acharjee, Y. Matsuo, F. Tokumasu, M. Mori, D. Waluyo, K. Shiomi, T. Nozaki, S. Hamano, T. Shiba, K. Kita and D.K. Inaoka (2021) Identification of 3,4-dihydro-2H,6H-pyrimido[1,2-c][1, 3]benzothiazin-6-imine derivatives as novel selective inhibitors of Plasmodium falciparum dihydroorotate dehydrogenase. Int. J. Mol. Sci. 22: 7236
T.Q Tanaka¶, S.M. Tokuoka, D. Nakatani, F. Hamano, S. Kawazu, T.E. Wellems, K. Kita, T. Shimizu, F. Tokumasu*,¶, (2019) Polyunsaturated fatty acids promote Plasmodium falciparum gametocytogenesis Biology Open, 8: bio042259 (

Early Electronic Version, Jun. 20, 2019

)
H. Shindou, H. Koso, J. Sasaki, H. Nakanishi, H. Sagara, K. M. Nakagawa, Y. Takahashi, D. Hishikawa, Y. Iizuka-Hishikawa, F. Tokumasu, H. Noguchi, S. Watanabe, T. Sasaki, & T. Shimizu (2017) Docosahexaenoic acid preserves visual function by maintaining correct disc morphology in retinal photoreceptor cells. J. Biol. Chem., 292: 12054-12064.
Message
There are many occasions where basic biological knowledge is critical for diagnosis, drug developments, treatment policy, and understandings of biology in organisms that spread diseases. I would like everybody who studies global health becomes very familiar with basic biology of pathogens for expanding your future carrier paths and flexibility.