Associate Professor Bhim Gopal Dhoubhadel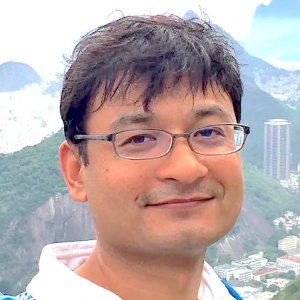 Speciality / Research theme / Keywords
Tropical Medicine, Child Health, Clinical Epidemiology
Supervision
Masters Programme
Doctoral Programme
Qualifications
MBBS, MTM, PhD, DipPaed, DTM&H
Contact
b-gopal@nagasaki-u.ac.jp
Background
After receiving my medical degree from BP Koirala Institute of Health Sciences in Nepal in 2005, I worked in paediatric hospitals for few years. A turning point from clinical work to global health came when I was assigned to work in a refugee camp for Somali and Ethiopian refugees in Djibouti under the UNHCR and the Association of Medical Doctors of Asia (AMDA). There were about 8000 refugees in 2008. Although I was a single doctor, I could run various public health programmes, such as immunization, nutrition, and HIV prevention with the help of nurses and community health workers. Establishing a therapeutic feeding centre for malnourished children and treating them in the refugee camp was a very satisfying experience. These experiences led me to pursue my work in global health.
I joined the MTM programme in 2010 and continued for a PhD in the Department of Clinical Medicine in the Institute of Tropical Medicine (Nagasaki University). I received my PhD in 2014. I was a fellow of the Global Health Leadership Program at the University of Tokyo that led to have experience at the World Health Organization in Geneva. In addition, I have professional diplomas in paediatrics and tropical medicine.
Teaching
I teach various topics (pneumonia, diarrhoea, immunization, etc.) as tropical medicine lectures and lead discussion in clinical case sessions presented from various hospitals around the world. I also love to guide students according to their interests and future goals.
Research
Globally 2.5 million people, including children die every year due to pneumonia mostly in resource-limited regions. Streptococcus pneumoniae is the major pathogen. My main research is focused on this pathogen. We use a high throughput nanofluidic assay to identify various vaccine and non-vaccine serotypes (total ≥100), and study their epidemiology, vaccine effectiveness, and interaction when two or more that two serotypes are present at the same time. Besides, we are developing and validating novel quantitative (multiplex bead-based) and qualitative (opsonophagocytic) assays for the assessment of pneumococcal vaccines. These assays not only help in post-licensure evaluation of the vaccines in various specific populations, such as the elderly and the children with sickle cell anaemia (which are generally not done at the time of licensure), but also helps to assess the immunogenicity of novel vaccines.
Besides, I am also interested to work on various topics on global health, such as typhoid, malnutrition, and antimicrobial resistance.
In Japan, I belong to Adult Pneumonia Study Group-Japan (APSG-J). In Nepal, we are running epidemiological and clinical research in Siddhi Memorial Hospital in Bhaktapur, which is our research site.
Countries where you work currently
Work and personal webpage address
Work webpage address
http://www.tm.nagasaki-u.ac.jp/nekken/en/departments/respiratory-infection.html
Personal website address
https://www.ourglobalhealth.com/
Five MOST IMPORTANT/INTERESTING recent publications
 Dhoubhadel BG, Morimoto K. Prevention of pneumococcal diseases: the challenge remains. Lancet Glob Health. 2022;10(10):e1375-e1376. doi:10.1016/S2214-109X(22)00374-6
Dhoubhadel BG, Suzuki M, Ishifuji T, Yaegashi M, Asoh N, Ishida M, Hamaguchi S, Aoshima M, Yasunami M, Ariyoshi K, Morimoto K; Adult Pneumonia Study Group-Japan (APSG-J). High prevalence of multiple serotypes of pneumococci in patients with pneumonia and their associated risk factors [published online ahead of print, 2022 Apr 26]. Thorax. 2022;thoraxjnl-2021-217979. doi:10.1136/thoraxjnl-2021-217979
Shrestha D, Budhathoki S, Pokhrel S, Sah AK, Shrestha RK, Raya GB, Shrestha R, Pasakhala R, Smith C, Dhoubhadel BG. Prevalence of vitamin D deficiency in pregnant women and their babies in Bhaktapur, Nepal. BMC Nutr. 2019;5:31. Published 2019 May 29. doi:10.1186/s40795-019-0294-7
Suzuki M, Dhoubhadel BG, Ishifuji T, Yasunami M, Yaegashi M, Asoh N, Ishida M, Hamaguchi S, Aoshima M, Ariyoshi K, Morimoto K; Adult Pneumonia Study Group-Japan (APSG-J). Serotype-specific effectiveness of 23-valent pneumococcal polysaccharide vaccine against pneumococcal pneumonia in adults aged 65 years or older: a multicentre, prospective, test-negative design study. Lancet Infect Dis. 2017;17(3):313-321. doi:10.1016/S1473-3099(17)30049-X
Zabihullah R*, Dhoubhadel BG* (*first authors), Rauf FA, Shafiq SA, Suzuki M, Watanabe K, Yoshida LM, Yasunami M, Zabihullah S, Parry CM, Mirwais R, Ariyoshi K. Risk for Death among Children with Pneumonia, Afghanistan. Emerg Infect Dis. 2017;23(8):1404-1408. doi:10.3201/eid2308.151550